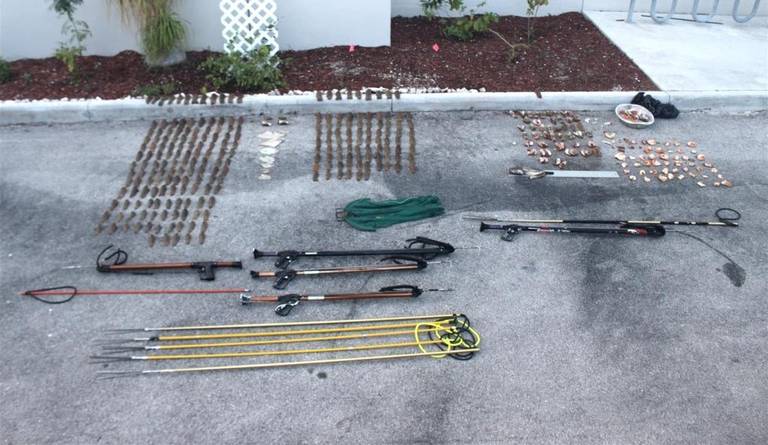 The price to pay for spearing 320 spiny lobsters was a trip to jail Sunday — and hundreds of charges for seven out-of-state men.
The men, who were pulled over in a rented boat on the oceanside of the Vaca Cut Bridge around 4:30 p.m. by Florida Fish and Wildlife Conservation Commission officers, also had four out-of-season stone crab claws and eight fish fillets on the boat, according to FWC spokesman Officer Bobby Dube.
Officers Alex Piekenbrock and Jefferson Carroll stopped the boat to do a resource inspection, Dube said. On board were Leon Reeves, 48; Robinson Reeves, 19; and Jeffrey Honnell, 45, all of Pheonix City, Ala.; Jeffrey Barket, 44, of Rome, Ga.; and David Gilmore, 55; Francis Bartkiewicz, 57; and Kyle Bartkiewicz, 23, all of Eufaula, Ala.
On the boat was a bag containing 137 out-of-season wrung spiny lobster tails — 117 of which were undersized — the stone crab claws and fish, Dube said.
The seven admitted to spearing the lobster, Dube said (it's illegal to spear lobster), and a search of the house the men were renting nearby turned up another 183 out-of-season spiny lobster tails or parts, 109 of them undersized. According to Dube's report, another stone crab claw was found along with an undersized black grouper carcass the men admitted to taking the day before.
This article was reposted by the Miami Herald.