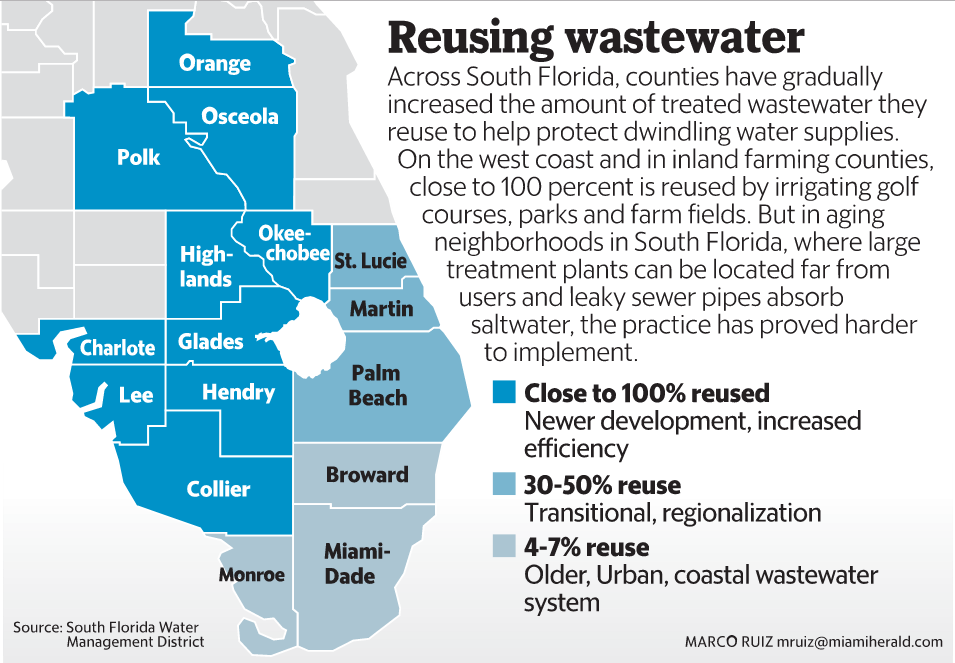 Every year, while hundreds of golf courses around the state use treated wastewater to keep fairways emerald green and protect dwindling water supplies, Miami-Dade County taps a surprising source to irrigate its course on Key Biscayne: drinking water.
One of Florida's biggest water users, no surprise, turns out to be one of its worst recyclers.
Reusing treated wastewater — to irrigate golf courses, parks and farm fields or hydrate wetlands — has for decades been a pillar, along with conservation, for protecting water resources. The state now leads the nation in the amount of water it reuses, with the west coast and inland farming counties reusing close to 100 percent of their wastewater last year, said Mark Elsner, bureau chief of water use for the South Florida Water Management District.
By 2025, that's supposed to change when a 2008 state law requiring counties that now dump most of their wastewater offshore in massive pipes to begin reusing 60 percent. In Miami-Dade, that amounts to 117 million gallons a day. Up until last year, the county had a solid plan: pipe 90 million gallons a day from its south district plant to nearby Turkey Point to help cool two new nuclear plants, along with millions flushed daily deep underground. But last year, Florida Power & Light shelved the reactors and set no new deadline, leaving the county with no place to send the water. Or comply with the law.
The county is now facing expensive alternatives and deciding whether to challenge the law. A plan detailing options is expected to be completed by December.
"The language in the statute says the reuse needs to be economically reasonable and technically feasible," said deputy water and sewer director Doug Yoder. "We would be inclined to say if it increases the cost [of water] by a factor of 10, that hardly seems on its face to be economically reasonable."
This article was reposted by the MiamiHerald.