The Rescue A Reef Sponsored Dive Trip on September 16, 2017 has been postponed due to damage caused by Hurricane Irma.
Rescue A Reef
Sponsored Dive Trip
Join the Key Biscayne Citizen Science Project for our second annual Reef Restoration Day!
Have you ever wondered what marine biologists do? Are you interested in diving alongside University of Miami coral reef experts? Rescue A Reef coral restoration expeditions offer you a hands-on experience to work with live corals in their natural habitat!
Key Biscayne residents are invited to join a KBCF Citizen Scientist Project-sponsored dive trip with University of Miami Rosenstiel School's Rescue A Reef Program. Dive the Key Biscayne Coral Nursery, learn about the staghorn coral restoration efforts, and participate in a new coral out-planting project!
Key Biscayne Reef Restoration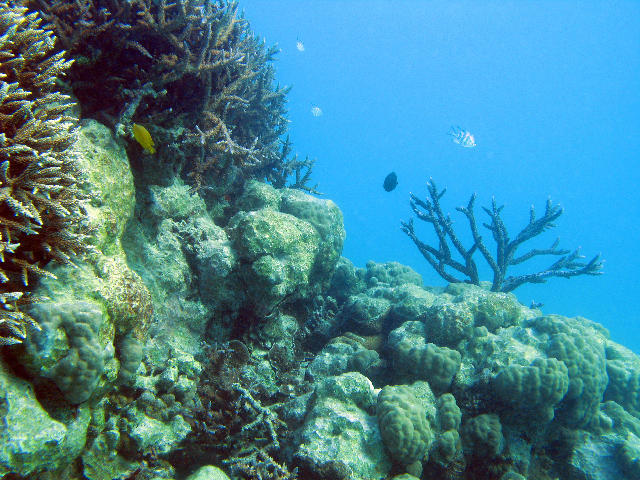 Staghorn corals (Acropora cervicornis) are important coral reef engineers, providing essential habitat for many other reef organisms. Unfortunately, coral populations have drastically declined and are threatened with extinction due to climate change, pollution, disease, overfishing, and habitat destruction. Staghorn corals have been designated on the IUCN red list as "critically endangered," and are listed as "threatened" under the Endangered Species Act.  The National Marine Fisheries Service has designated Florida as one of four critical habitats in the world for staghorn coral.
While populations of staghorn coral still exist throughout Florida and the Florida Keys, they are small, fragmented, and genetically isolated. Without the flow of genes between populations, they grow weaker over time and are less able to cope with changes in the environment.
The University of Miami's (UM) coral restoration lab (Lirman Lab) focuses on
propagating threatened Caribbean staghorn coral in underwater coral nurseries. Nursery-reared corals are then out-planted to local reefs to enhance staghorn populations and promote natural recovery.
Out of the Lirman Lab came Rescue A Reef, a citizen science project designed to support coral reef research and restoration activities through outreach, education, and engagement. Their mission is to educate and engage the local community, increase scientific literacy in coastal and coral reef conservation, and foster ocean stewardship.
The area around Key Biscayne and Virginia Key is part of the designated critical habitat of staghorn coral, and therefore its protection is paramount.  The aim of this and future trips are to get the Key Biscayne community involved in awareness, protection, and enhancement of their surrounding local environment.

Half-Day Dive
The trip will be comprised of a half-day dive excursion leaving from Diver's Paradise of Key Biscayne at 7:30am, beginning with a short demonstration on coral nursery maintenance and out-planting methods.
Coral Out-Planting
At the Key Biscayne Coral Nursery, divers will help with cleaning the coral nursery trees and collecting coral clippings for out-planting, followed by a trip to Diver's Paradise Reef where the coral fragments will be out-planted.
Family Activities
After returning from the dive at about 1:30pm, the families of the participants are encouraged to join the citizen scientist divers and the Rescue A Reef staff at Diver's Paradise for some food and drinks. Our team will be hosting educational activities for all to learn about coral reefs.
Participation Requirements
All dive participants must be at least 18 years old and Open Water SCUBA certified, with preference on confident divers.  Due to insurance restrictions, only participants 18 and older will be allowed on the boat.
Must be a resident of Key Biscayne to participate in the dive excursion. Proof of residency required.
The sponsored trip is free for Key Biscayne residents and will include: two tanks, mask, fins, and snorkels for the dives, as well as snacks and water.
BCD, regulator, and wetsuit are not covered and will be the responsibility of each individual to bring or rent. If needed, the BCD and regulator can be rented for an additional fee of $35 and wetsuits for $10 from Diver's Paradise.
Participants must get tickets via Event Brite to be included in the dive.